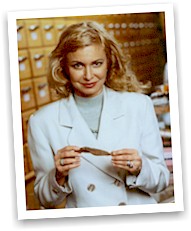 The San Francisco Chronicle wrote, "Letha Hadady, one of the nation's leading experts on natural Chinese remedies, is leading a quiet lady-like revolution to bring herbal medicines from the Far East and elsewhere into everyday use in American homes." Read the latest on her blog Letha's Health Secrets.
Slimming Holiday Foods
Here are a few simple fasting foods to help you lose weight quickly and easily after eating rich holiday meals. You can make them up in large quantities and keep them in the refrigerator.
Sciatica
If you have felt a sharp electric pain searing down the side or back of your leg lately, it may be sciatica, an inflammation of the sciatic nerve. That nerve, the largest in the body, runs from the lumbar area of the lower back, down through the pelvis and groin, and branches out in two directions down the back and side of each leg to the ankle and little toe.
A Dragon Breakfast
If you have been following my posts on Weightloss The Asian Way (#1, 2, and #3 and the Sugarless Pie) you know that everyone participating in the program is on the basic diet: 2 fruits, 6 - 9 veggies, one sort of protein and lots of tea per day. In addition, I will continue to suggest special foods for 4 energy types: Tigers, Dragons, Bears, and Cranes. Here are a few breakfast suggestions especially suitable for Dragons.