Read about what one mother has to say when people ask, "Why did you adopt a Chinese child?" Debi Strong, the new Editor-in-Chief of ChinaSprout, shares her views with our community in her latest guest column. Debi is the mother of Tracy (17 yrs. old) and Brenna Xiaoxiao (17 months old), and lives in Vail, Colorado with her husband, dog, and fish.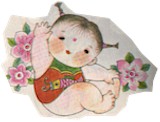 Ever since my husband and I brought our daughter home from China last November, a week rarely goes by when someone doesn't ask, "Why did you adopt from China?" Sometimes it's a polite inquiry, usually it's the voice of curiosity, and occasionally it's accompanied by a racially-prejudiced undertone. Chinese-Americans ask the question as often as anyone else. Here's my explanation, to one and all:
Our decision to adopt from China was not made lightly. A lot of thought went into the process. When we first decided to adopt a child, we knew that we did not want to go the domestic route because too many lawsuits were being filed by birthmothers trying to reclaim their babies. We knew we couldn't survive the heartbreak of such an experience. We knew that in order to adopt from another country, a child had to be abandoned and/or orphaned.
Having thus decided to adopt internationally, we next looked at what countries provided the healthiest babies. We found that Russia and Eastern European countries tended to have high incidences of fetal alchohol syndrome, other prenatal drug and nutrition-related problems, as well as significant numbers of attachment disorders. We also discovered that the money given to the governments in these countries rarely ended up back at the orphanages--instead, it was usually used to line officials'pockets.
On the other hand, the babies coming out of China were very healthy. Also, we were told that Chinese women rarely smoke, drink alcohol, or have drug-use issues. A social worker who had worked with Chinese adoptions since the country first offered its children to other countries in 1992, told us that she had seen amazing transformations in Chinese orphanages since that time, which she attributed to the fact that the money coming in from adoptions was being funneled back for the care of the children. We were impressed.
My husband and I were not constrained by the idea that our child had to look like us or be of the same racial background. In fact, both of us had long been interested in Asian cultures and felt very drawn to Asia. We knew that Chinese civilization was the one of the oldest and most venerable in Asia, and that the Chinese people had a strong sense of familial obligation and the value of hard work. These values underlined ours. Add to that the fact that we wanted a girl, and the choice was pretty clear: China was the place for us to go!
As a side note, I have to include this comment: Once we were deep into the adoption process, we were told that some people in China believed that Americans only adopted Chinese children for one of two reasons: to use them as slaves or as for use as organ donors. Needless to say, we were horrified! For the record, every person I know who has adopted from China cherishes their child(ren) beyond value, as do we. These children could not possibly be more loved, and I pray that somehow their birthmothers find peace and know in their hearts that their children are safe, happy, healthy, and living lives filled with love.
Going to China was an incredible experience which we hope to repeat regularly as our daughter grows up. The people were warm and friendly everywhere we went, and my earnest attempts to speak Mandarin were welcomed and even understood most of the time! The experience couldn't have been more positive--we are the newest China advocates of our community! As such, we are making every effort possible to make sure that our baby grows up with a strong sense of pride and identity with her Chinese heritage.
In fact, one of the reasons I love working with ChinaSprout is because it helps me stay connected to the Chinese community, which I feel is crucial for my daughter's well-being. I want her to grow up comfortable in both the American and Chinese cultures. I want our family to embrace both worlds and set an example for others to follow that shows the strength of diversity and the power of love.
Speaking for myself and my family, I can say that our little girl couldn't possibly be more loved and adored. We are so glad we chose to adopt from China--our lives are already so much richer for the experience, and it's only been 7 months! As time passes, I know we will continually be amazed at all we have gained because we went to China and returned home with the most precious gift of our lives: Brenna Xiaoxiao Strong.