This is the first article of our Chinese Children's Lives Series. We are introduced to a 5- year-old Beijing girl. Tou Tou and her life in kindergarten and at home. This article is based on interviews with Tou Tou and her Mom. We will continue this series with children's lives in different cities and the countryside.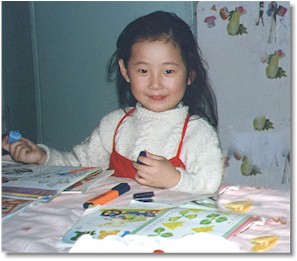 Tou Tou just turned 5 years old in January. She lives in Beijing with her parents Le Le and Diao Zhong. Like most children in big cities, she is the only child of this small family. But unlike many one-child-families, Tou Tou is not taken care of by either her grandparents or caretakers. Instead, she goes to a full time kindergarten, where she stays from Monday to Friday. Yes, she is only with her parents during the weekend!
It sounds unbelievable to Westerners. But it is a common childcare situation for Chinese. This custom has been passed down for generations. My mother was in kindergarten and primary school for months until she saw my grandparents. Ok, that was during the time of the revolution. But even many years later I also stayed at the kindergarten for a full week until my parents picked me up on Saturday. In those days we had six-work days a week. My nephew just graduated from his full time kindergarten (Monday – Friday) and entered a full time primary school and stays there also from Monday through Friday. He has even more reason to do that because his parents work in Hong Kong.
Why do Tou Tou's parents send her to a kindergarten and a full time kindergarten? Her Mom Le Le says "Our parents do not live near us. But more importantly, we feel she can get a better education in kindergarten than staying at home. There are three reasons we send her to a full time kindergarten. First of all, we both are very busy at work and come home late in the evening. Second, the kindergarten we like the most is located very far from where we live. Third, the special program we enroll her in offers only a full time schedule".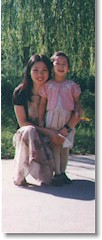 Why did they choose this kindergarten? Tou Tou's Mom explains," Many reasons. We like their curriculum most. The China Central Music Institute (one of the most prestigious Chinese musical academies in China) founded this kindergarten. The school focuses on the children's music education. We were told the more children are exposed to music, the more their brain is developed. We don't expect Tou Tou to become a musician, but we like their teaching methods. In addition to music, their curriculum focuses more on creativity, not memorization, the latter a traditional Chinese teaching method." The tuition for this kindergarten is quite expensive for many Chinese - 20,000 Yuan (equivalent to $2,400) a year. But it is only half the price of one of the dozen or so most prestigious kindergartens in Beijing.
Tou Tou started her full time kindergarten when she was 2 ½ years old. How does Tou Tou like this full time schedule? Tou Tou's Mom says, "At the beginning, she cried a lot and it was really hard for us to drop her off on Mondays. But now she has gotten used to it. Every Monday she is happy to go to the kindergarten. Meanwhile she looks forward to Friday when Mom picks her up." Tou Tou also says "I like my kindergarten very much. I like to go there".
How does Tou Tou spend her time in kindergarten? She gets up around 7:00am. After washing her hands and face and brushing her teeth, she and her classmates jog around the yard. Then they have breakfast, followed by 10 minutes of English class (Yes, most kindergartens in Beijing offer English classes). Mostly they only learn English vocabulary. The mornings begin with music classes such as playing piano and singing. Then they go out to do morning exercises and play for while. When they come back, they have either Chinese, Mathematics, or crafts classes. Tou Tou started learning Chinese characters when she was 4 years old, now she can recognize and write up to 30 characters. She can also add numbers up to the sum of 20.
After lunch and nap time, Tou Tou and her classmates have their music classes again, followed by story telling, making crafts, and play period in the playground. When asked which stories she knew, Tou Tou said "Snow White" and "Cinderella". Wow, only Western fairy tales? But she likes Chinese children's games the most, such as "Looking for Friends", "Eagle Catches the Chicken". (One wonders if she would like Western children games better if she knew about them.)
Tou Tou and her classmates have their dinner around 6:00pm. After dinner and clean up, they start watching TV, mostly children's animation films, or practice piano, or play with each other. The day ends around 9:00pm.
When asked what she thinks of the kindergarten's program, Tou Tou's Mom says "They offer a very good program for children. Tou Tou has learned lots there, not only music, language and math, but also socialization skills with other children. But one thing I don't feel comfortable about the kindergarten is that they teach children to compete, to become the best piano player or singer. So now when she comes home during the weekend, she still wants to practice piano. I wish she would play with friends or toys more."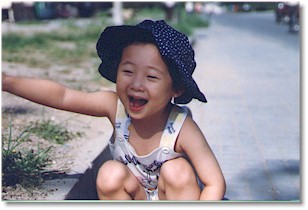 What does Tou Tou do when she is at home? Besides practicing piano, she loves for her parents to take her to the park. She also loves to watch VCD animation films that she cannot watch on the TV in kindergarten, such as Monkey King, Mu Lan, and other Chinese children films. Tou Tou also enjoys playing children's computer games. What does she like most? Tou Tou answers "Painting! I love to paint nature. I want to paint Ma Ma and Pa Pa taking me out to Nature". What kind of food does she like most? Like most children in big cities, Tou Tou loves to go to McDonalds to have burgers and play there. What else, Coca-Cola! Before she turned 5 years old, she counted the days until she was allowed to drink Coca-Cola. Yes, now she drinks lots of Coca-Cola! Chinese parents just cannot beat the marketing power of multinational corporations – everything Western is the best. Food, drink, clothing, dolls, and on and on.
What values are most important to Tou Tou's Mom in raising her child? Le Le says "good health, a happy family, a good education, and following a child's nature". What does she think Tou Tou to be when she grows up? "To become a architect when she grows up". Many Chinese parents wish their children to go after their own professions. As it happens, both of Tou Tou's parents are architects in one of the most prestigious architectural firms in Beijing.