Are you dreaming of a white Christmas and an outstanding Hanukkah season? At our house, we keep digestive Chinese teas and healthfoods on hand to make the season jolly and bright. When Rudolph the red-nosed reindeer and his lively band stop at our house on the way back to the North Pole, we offer them a glass of cheer. Their boss Santa Claus is a little on the chubby side so we often add one packet of Get Svelte! instant beverage to hot apple juice to spark the tangy flavor and lift his spirits. Get Svelte! herbal powder contains safe, high quality herbs and no caffeine. Added to water or juice it becomes a liquid traditional Chinese medicine.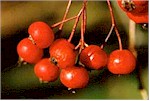 Hawthorn berries and other slimming herbs, including gently diuretic alisma used to made Get Svelte! instant beverage, clear up Santa's mid winter fatigue and reduce extra weight he gains after eating thousands of holiday cookies. Hawthorn is a fine herb to protect his heart made weary by shopping, wrapping gifts, and driving reindeer around the world.
We usually add one packet of Get Svelte! to hot water to make tea served with meals. However, during the holidays we find many ways to use it. It has a mild flavor that accents soups and sauces. You can stir it into juices or pasta sauce. One packet speeds digestion and enhances slimming. Santa, who has a big sweet tooth, uses two at a time in grape, apple or pear juice. I mix one packet of Get Svelte! with cranberry juice to make red ice cubes that I add to mixed drinks.
A Slimming Holiday Diet
It is always a good idea to stay slim and fit, especially during the holidays, by increasing fruits, vegetables, and teas. Reindeer, elves, and people live longer and better with a light, vegetarian diet that requires less digestive energy. Fruits such as figs, persimmons, apricots, and dried apple slices or berries make a nice breakfast along with a spicy Chinese tea. Teas reduce our absorption of dietary fat in the digestive tract. Tea is more slimming than coffee because fat passes through the body faster and better.
All Chinese teas are made from the same leaf called Camellia sinensis. The leaves are picked, dried, rolled, roasted, and oxidized to give tea added richness and color. The least processed is white tea. Its leaves are silver green and the flavor is very mild. White tea is high in antioxidants and low in caffeine. Green tea is slimming and detoxifying for the body. The leaves are green and slightly bitter tasting because they are cleansing. Oolong tea is stronger and has more caffeine than green tea. It makes a nice energy boost during the late afternoon.
The famous Yi Xing tea pot and thimble-sized cups were invented sometime around the Song Dynasty especially to enjoy the rich aroma and stimulating flavor of oolong tea. The Yi Xing pot, made of reddish kaolin, quartz, and mica, with high concentrations of iron and silicon, allows the tea and teapot to breathe. It is small enough to fit into and warm your hand. Never wash an Yi Xing tea pot with soap but rinse it with water after use. The tea leaves season the pot. A fine French chef would never scrub a copper pot with detergent because that would ruin the copper flavor in his/her cuisine. The same is true for the Yi Xing pottery teapot. The pot takes on the bracing flavor of oolong tea.
You can leave your tea overnight in an Yi Xing pot. The next morning, dab some tea onto a paper towel and apply it to your face. Tannic acids in tea enhance energy, revive skin tone, and encourage complexion clarity.
Slimming Recipes
Onions and berries are also cleansing skin remedies when prepared without sugar. Here are two pies to enjoy without guilt during the holidays.
Leek pie
This pie is rich enough to be served as a main course along with a green salad and steamed asparagus.
Serves 6
Preparation time: 1 hour
Ingredients:
One eight-inch low-fat graham cracker pie crust
2 leeks, the white parts thinly sliced
1 egg slightly beaten
1/2 tsp. instant tapioca pudding
1/2 cup low fat milk or low fat soy milk
1/4 tsp. mace powder (optional)
1 packet of Get Svelte! instant beverage
1 pinch nutmeg powder
Soak the leeks in vegetable wash after slicing them because they always contain sand. Rinse them carefully. I usually sprinkle instant tapioca onto pie crusts to absorb excess moisture. If you like a firmer pie, combine the tapioca with one egg white, spread it onto the pie crust, and bake it for 8 minutes in a 425 degree oven. Otherwise, use the entire egg in the filling. People concerned about cholesterol can use eggs enhanced with omega 3 oils.
After rinsing the leeks, shake out the excess water. Place the sliced leeks into the pie crust. In a bowl mix the egg, mace powder, Get Svelte! powder and milk. Pour this onto the leeks. Using the back of a spoon, press the leeks into the egg mixture so they are covered. Sprinkle a little nutmeg on the top and bake the pie in a 425 degree oven for 50 minutes until it is golden brown. Allow the pie to cool before cutting.

Chocolate berry pie
This recipe makes a quick and delicious afternoon tea pie.
Serves 8
Preparation time 15 minutes
Ingredients:
One 8-inch low fat graham cracker crust
2 tsp. instant tapioca pudding
1 packet of Get Svelte! instant beverage
2 Tbsp. all fruit jam or Black Cherry Concentrate
2 1/2 cups of fresh berries (black berries, blue berries, and
strawberries)
1 square bitter-sweet bakeršs chocolate, grated
Mix the instant tapioca pudding powder with the all fruit (no sugar added) jam, and a little water or cold Earl Grey Tea. Spread the thick paste onto the bottom of your pie crust. Add the fresh berries on top. Then grate the dark bitter-sweet chocolate into a bowl and add that on top of the berries.
Bake the pie at 450 degrees just long enough for the chocolate to melt and the fruit to become warm and soft, depending on the fruit used about 20-40 minutes. Cool it before cutting the pie into small slices.
Both herbal beverages, Gets Velte! and Happy Garden Tea are
now available for purchase on ChinaSprout.com. Click on
the button below to order yours now!