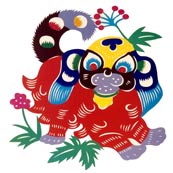 January 29, 2006 is the beginning of Chinese New Year 4703, The Year of the Dog. Every twelve years the same Chinese astrological sign returns. Earlier years of the Dog include 1946, 1958, 1970, 1982, and 1994. People born during one of those years are supposedly influenced by canine energy. According to lunar astrology, the nature of the entire year is influenced by the character of its animal sign. Each solar year also is influenced by one of the Chinese five elements: fire, earth, metal, water, and wood. This is the year of the Fire Dog. Fire enlivens energy and activity during our Dog year. People with water and earth signs especially benefit from fire's warmth because can facilitate communication and inspire action. What can we expect for 2006?
Dogs are loyal and comforting. They prefer a predictable routine with favorite fire-hydrant stops. One top Dog who will make decisions that affect the global economy, the environment, and issues of war and peace is President George W. Bush born July 6, 1946 in New Haven, Connecticut. According to Chinese astrology, people born during the year of the Dog, seek approval. Dogs are hard-working crowd-pleasers who love attention. Charismatic President Bill Clinton, a Rhodes Scholar who temporarily balanced the budget and nearly pulled off a historic peace in the Middle East, born in 1946 within months of the current president, proves that Dogs are loveable but sometimes get into the Dog house. We predict that history will give a Dog his/her bone.
According to Chinese astrology, most Dogs prefer consistency over challenging situations. Some say that makes for a dull Dog. They don't adjust to change or make major changes by themselves. Mr. Bush's favorite actor, Sylvester Stallone was born on the same day as himself. He is filming Rocky Seven--the same old bone?
On the other paw, Dogs are known to be sexy. Singer, song writer Madonna was born in 1958, the year of the Dog, and so was Michelle Pfeiffer, Alec Baldwin, and Lord of the Rings actor, jazz musician, and poet Viggo Mortenson, chosen by People as "the sexiest man alive." Dogs have something special and know how to 'wow-wow' a crowd.
Donald Trump, known for making and losing fortunes, bad marriages, and worse TV shows, was born June 14, 1946. Dog year 1970 gave us Olympic medal-winning tennis pro Andre Agassi. Of Armenian extraction, Agassi will bow and throw a kiss to the public after winning a match. That's style! Also born in 1970 were Hip-Hop's first lady, Queen Latifah (as Dana Elaine Owens) in East Orange, New Jersey and actor, musician, vegan and PETA activist River Phoenix (as River Jude Bottom) in a log cabin in Madras. River may not rise again, but watch the Hippie phoenix spirit soar. In 2006, civil rights and war protest will take on a new life.
A Dog's Life and Mate(s)
Dogs can be dogmatic. They like to take matters into their own teeth. According to astrologers, a Dog's life is characterized by mood swings. The problem may be aggravated by irrational fears, niggling anxieties, and chronic grouchiness. Where love is concerned, Dogs have a tough time finding the right mate. They can stress their partner to the max. A tense, tired, anemic Pooch could use Astragalus Plus between meals. Blood enhancing tonics do more than enhance beauty. They help us to relax and rejuvenate. They reduce stress. Astragalus Plus works well for those who suffer from weakness after illness, lack of hope, chronic diarrhea or a sensation that everything is falling through the floor. Reduce the recommended dose 3 - 6 pills with meals if constipation occurs. A Dog is happy when digging in the garden or cleaning up the Dog house. Sly Dogs bury savings for a rainy day. The Year of the Dog will bring romantic luck for people born during the years of the Horse (1954, '66, '78, '90), Tiger (1950, '62, '74, '86), or Pig (1947, '59, '71, '83.) Advice to all others: Give your Dog a long leash.
Cold Nose, Warm Heart?
A Dog's good health can be quickly ascertained by touching his cold nose. If his eyes are bright and actions lively, he is just fine. However, there are natural remedies for recurrent anxiety, anger, laryngitis from barking orders, and indigestion from sticking his paw in his mouth. A warm bath and a gentle rubdown works wonders. Fresh ginger, mint, chamomile, and vervain are relaxing teas. Better yet, a warm cup of Happy Garden Tea soothes a tense Pooch and improves sleep. It contains soothing wheat sprout and digestive herbs that bring ease, contentment, and comfort. Two easily available Asian health tonics are Siberian ginseng, which improves stamina as it reduces stress, and gotu kola, which improves a Dog's memory. Remember that Dogs range from mastiff types to lapdogs. They may be man's best friend, but plenty are women-pleasers. A simple herbal beverage such as Happy Garden Tea enjoyed in water or juice between meals or at bedtime supports smooth digestion and eases nervous tension. That makes love, business, and a Dog's life in general easier.
Global powers at work in the world will be tangled enough during 2006 to give anyone indigestion. A dose of 5 - 10 Tummy Pills taken with each meal is useful for cramps, chest discomforts, hypoglycemic blank outs, depression, and gnarled circulation issues. Its ingredients, including ginger and bupleurum make digestion, if not negotiations go smoothly.
The Year of the Dog 2006 may offer a Dog's predictability. Let's hope for a nice dull year. We can hardly wait for 2007, the Year of the Pig! Keep an eye out for high-flying Pigs such as Governor Arnold Schwarzenegger and Senator (and Presidential hopeful) Hillary Rodham Clinton, born October 26, 1947. They promise a refreshing 'oink'.
Both herbal beverages, Astragalus Plus and Happy Tummy Pills are
now available for purchase on ChinaSprout.com. Click on
the button below to order yours now!